5 Reasons Why You Need Heated Socks
Posted by THOMAS TROJANSKY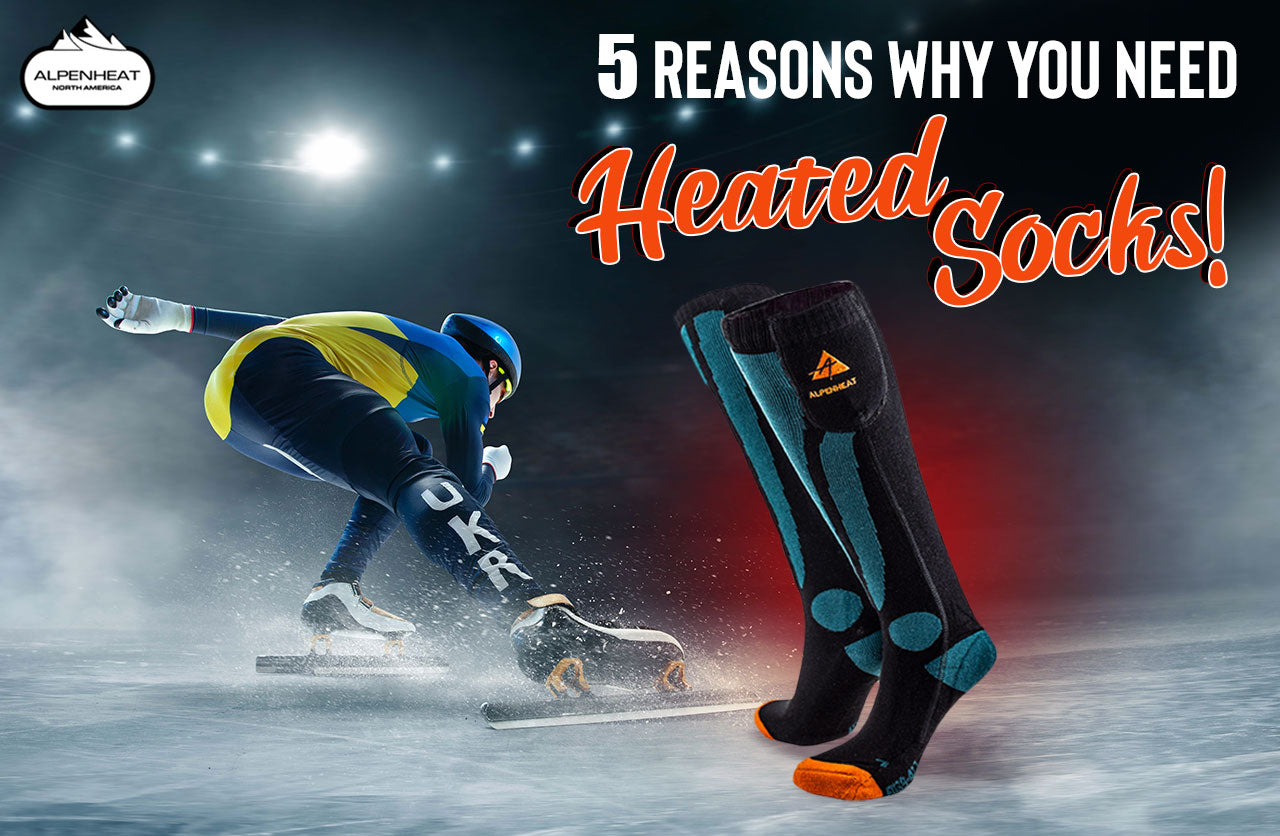 Imagine you're all bundled up, geared up to hit the snowy slopes for an interesting day of skiing. But even with your comfy jacket and heat boots, your toes are freezing, making you experience as though you have ice blocks for your feet. This is in which heated socks come to the rescue! In this blog, we're going to delve into the arena of heated socks, exploring what they may be, how they increase your winter joy, how we can use heated socks for skiing and many outdoor sports and why you definitely want them on your cold-climate arsenal.
What Are Heated Socks?
Before we dive into the nitty-gritty, allow us to break down the fundamentals. Heated socks are not your normal socks; they're like your trusty foot heaters in winter. These high-tech socks are equipped with integrated heating factors, permitting you to enjoy toasty feet in the coldest of situations. Powered by rechargeable batteries or transportable power sources, they bring about the warmth where it's needed maximum – your feet.
Heated Socks for Snow Activities
Heated socks are a game-changer in terms of wintry weather sports activities, and skiing enthusiasts swear through them. Imagine gliding down a snowy mountain while your toes stay effectively warm. No more distractions from the biting cold or frostbitten feet. Whether you're skiing, snowboarding, or trekking through snowy terrains, heated socks will keep your feet happy, so that you can focus on the amusing.
The 5 Benefits of Heated Socks
Now, let us explore the 5 reasons why heated socks ought to be your go-to winter weather partner:
1. Unmatched Comfort
There's nothing worse than shivering in the bloodless whilst trying to enjoy winter adventures. Heated socks provide constant warmth, ensuring that you live comfortably, no matter how low the temperature drops. It's like having a mini campfire on your toes, and it makes all of the difference.

2. Extended Outdoor Playtime
Cold feet frequently cut short your outdoor fun. With heated socks, you can make most of your winter activities, and enjoy your time in the snow. Enjoy longer ski periods, snowball fights, or night strolls without annoying your feet becoming icicles.
3. Enhanced Circulation
Proper blood circulation is vital for retaining warm temperatures for your extremities. Heated socks promote higher blood flow to your toes, reducing the danger of frostbite and making sure that you stay out, no matter how cold it gets.
4. Versatile and Adjustable Heat Settings
Heated socks provide customizable heat settings, permitting you to track the warm temperature of your choice. Whether you need just a touch of heat or want to show the warmth to the max, those socks are adaptable to your specific needs.
5. Therapeutic Relief
Heated socks offer healing benefits for people with cold-sensitive conditions like Raynaud's ailment or arthritis. The mild warmth can soothe aches and pains, supplying relief and comfort, making heated socks a must-have for those with unique clinical desires throughout the wintry weather months.
Heated Socks for Men and Women
Heated socks for men and women can benefit from the wonders. These aren't only for the guys or the gals; they are designed to cater to everybody's consolation and warmth. Plus, they come in various styles so that you can find the proper pair to shape your winter collection.
Heated socks for men are game-changers who experience outdoor wintry weather activities or who have to undergo cold commutes or work in cold chilly surroundings. Women can also take advantage of heated socks whilst relaxing at home. Heated socks come in diverse styles and designs, making them a stylish choice for girls for the duration of the colder months. Uses of heated socks for women can cater to their unique needs and options while making sure of warm temperature and comfort in cold weather
Other Winter Essentials
While heated socks are certainly winter essential, it's crucial to consider other cold-climate gear too. Don't forget your insulated jacket, gloves, and a cozy hat to complete your wintry weather look. Layering up with thermal clothes will keep you warm, however in terms of your feet, heated socks are the secret weapon you may not want to head without.
In conclusion, heated socks are a winter game-changer. They improve your winter adventures, whether or not you're out on the slopes, enjoying a snowy hike, or really trying to stay warm at some stage in the cold season. These heated socks provide unrivalled comfort, prolonged playtime, and better stream, with customizable settings for each man and woman. So, if you're trying to make the maximum out of the winter season, don't forget to add heated socks on your arsenal of wintry weather essentials. Your feet will thank you, and you may be surprised by the way you ever braved the cold without them. It's time to say goodbye to frosty feet and howdy to heat, relaxed feet all winter long!
Collection 2019
Sale 70% Off
Title for image