Where to buy Heated Clothing: Genuine Online Websites Vs Retail Stores
Posted by THOMAS TROJANSKY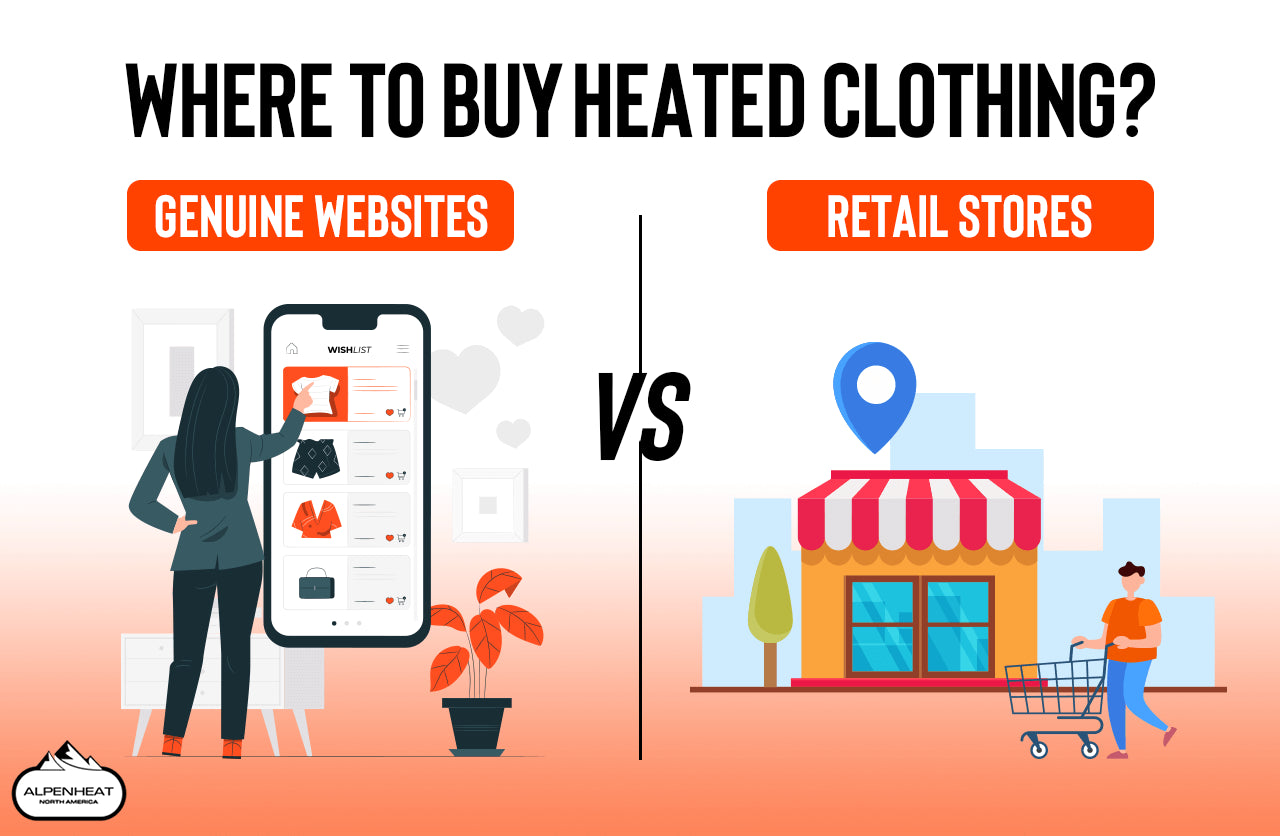 Are you ready to embrace warmth and comfort during chilly weather? Heated clothing is a game-changer, providing you with cozy warmth whenever and wherever you need it. But when it comes to purchasing heated clothing online you may find yourself torn between online websites and traditional retail stores. In this blog post, we'll explore the advantages and disadvantages of buying heated clothing online versus in physical stores. Let's dive in and discover why the online shopping experience may be the perfect fit for your heated clothing needs.
The Convenience of Online Heated Clothing Stores
Picture this: it's a blustery winter day, and the thought of venturing out to a retail store sends shivers down your spine. Why subject yourself to the cold when you can find an extensive selection of heated clothing at your fingertips? Online heated clothing stores provide the convenience of browsing and purchasing from the comfort of your own home. With just a few clicks, you can explore a wide range of heated jackets in-store, gloves, and other options of heated apparel online, comparing features, prices, and customer reviews.
Online shopping leads the line when it comes to convenience. With just a few clicks, you can browse through a wide range of heated clothing options from the comfort of your own home. No more braving the cold, searching for parking spaces, or standing in long lines. Online heated clothing stores provide a hassle-free shopping experience that allows you to compare products, read customer reviews, and make an informed decision at your own pace.
Furthermore, online stores are open 24/7, meaning you have the freedom to shop whenever it suits you best. Whether you're an early bird or a night owl, you can find your ideal heated jacket or heated gloves online without worrying about store opening hours. For people with busy schedules or limited access to physical stores, this flexibility is extremely useful.
The Pleasure of Trying Before Buying in Retail Stores
While online shopping offers convenience, there's something undeniably satisfying about physically trying on heated clothing in a retail store. You can touch the fabric, assess the fit, and even test the heating elements firsthand. This tactile experience can help you make a more confident purchasing decision, ensuring that the garment meets your expectations in terms of comfort and functionality.
Moreover, retail stores often have knowledgeable staff members who can guide you through the different features and benefits of various heated clothing options. They can offer personalized recommendations based on your specific needs, ensuring that you find the perfect heated apparel to keep you warm and cozy. This level of expertise and customer support can be invaluable, particularly for first-time buyers or those seeking professional advice.
The Wide Selection of Online Heated Clothing Stores
One of the significant advantages of online shopping is the vast selection of heated clothing available at your fingertips. Online heated clothing stores often stock a wide variety of brands, styles, and sizes, catering to diverse preferences and body types. Whether you're looking for a heated jacket, gloves, vests, or even heated socks, you're more likely to find your desired item online due to the extensive product range offered by e-commerce platforms.
Additionally, Heated clothing e-commerce enables you to compare prices, read customer reviews, and access detailed product descriptions, making it easier to find the best deal. With a few clicks, you can explore different online retailers and find the perfect heated clothing item that matches your budget and meets your specific requirements.
Competitive Pricing and Deals
Finding quality heated clothing at a reasonable price is essential. Online stores often have a competitive edge over retail stores in terms of pricing. With lower overhead costs, online retailers can offer better deals and discounts, allowing you to save money on your purchase. Furthermore, online stores frequently run promotions, seasonal sales, and clearance events, enabling you to snag fantastic bargains. So, not only can you stay warm and comfortable, but you can also do so without breaking the bank.
Customer Reviews and Recommendations
It is crucial to make an informed decision to buy heated clothing. Online stores provide a platform for customers to share their experiences and leave valuable feedback. Reading customer reviews can give you insights into the quality, performance, and durability of different heated clothing brands and models. This wealth of information empowers you to make a well-informed purchase, ensuring you choose the right heated apparel for your specific needs. By harnessing the wisdom of the crowd, you can avoid potential pitfalls and make a confident buying decision.
The Convenience of Size and Fit
One of the challenges of buying clothing, particularly online, is getting the right size and fit. However, online heated clothing stores often provide detailed sizing charts and guidelines to help you choose the perfect fit. These resources, combined with customer reviews, can give you a better understanding of how a particular garment fits different body types. Some online stores even offer hassle-free return policies and exchanges, ensuring that you're completely satisfied with your purchase. So, bid farewell to cramped fitting rooms and instead enjoy the convenience of finding the ideal heated clothing size without leaving your home.
Safe and Secure Transactions
Concerns about online shopping often revolve around security. However, reputable Online heated clothing stores prioritize the security and privacy of their customers. They utilize advanced encryption technologies to safeguard your personal information and payment details, ensuring a safe and secure transaction. Additionally, trusted online stores offer secure payment gateways, providing peace of mind during the checkout process. With these measures in place, you can confidently buy your heated clothing without worrying about the security of your sensitive information.
When it comes to buying heated clothing, both online websites and retail stores have their unique advantages and disadvantages. Online stores offer convenience, a wide selection, and the ability to shop at any time. On the other hand, retail stores provide the pleasure of trying before buying and personalized customer service. Ultimately, the choice depends on your personal preferences, urgency, and the importance you place on immediate gratification versus the convenience of shopping from home.
Whether you opt for online shopping or a visit to a physical store, the warmth and comfort provided by heated clothing are worth the investment. So, don't let the winter chill get the best of you – gear up with heated jackets online, heated gloves in-store, and more, and embrace the coziness that awaits!
Remember, no matter where you choose to purchase your heated clothing, always ensure that the website or store is reputable, secure, and offers high-quality products. Stay warm and happy shopping!
Collection 2019
Sale 70% Off
Title for image