Tips for Choosing the Ideal Heated Jacket: Finding the Right Size and Material
Posted by THOMAS TROJANSKY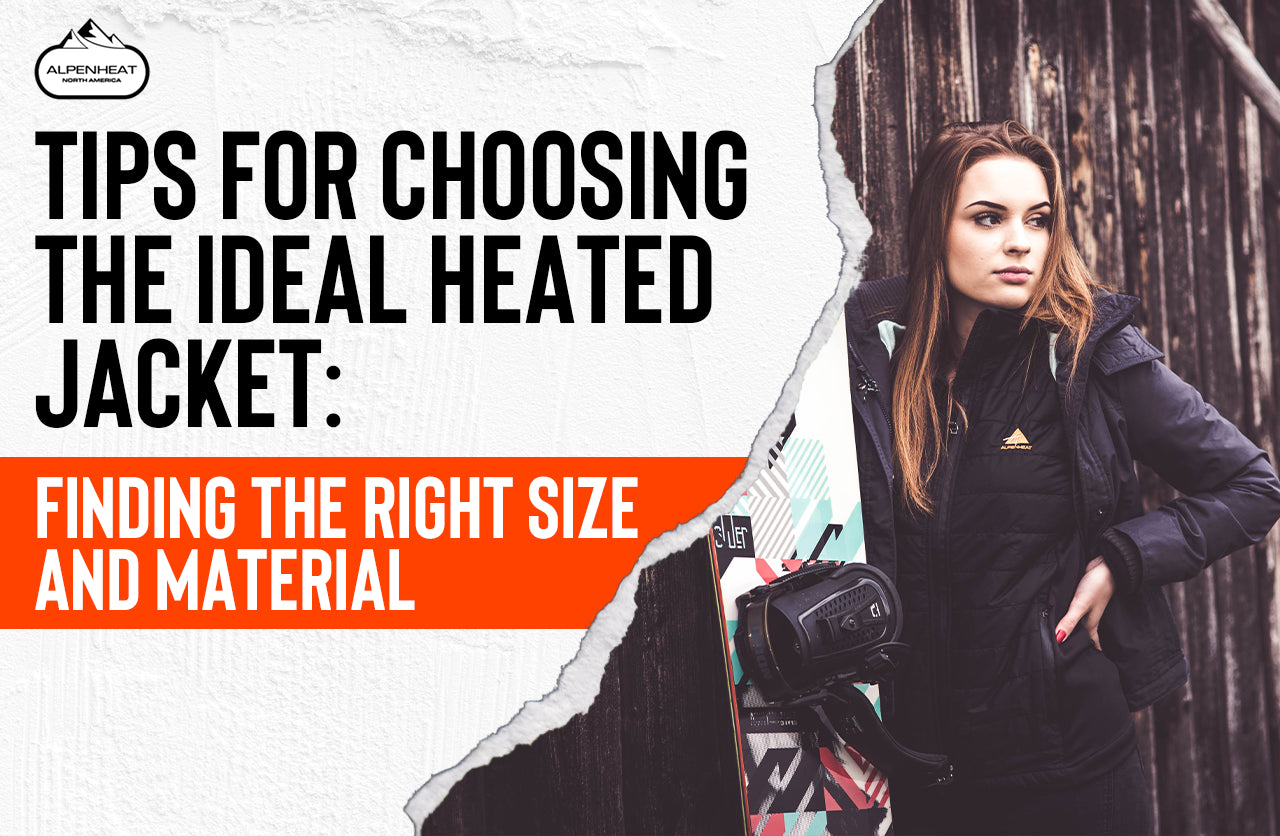 Are you prepared to brave the great outdoors without feeling the cold? You're in luck because we've got all the information you need about the perfect heated jacket that will keep you warm and comfortable, regardless of the outside temperature. This blog will provide you with all the essential details about heated jackets, this heated jacket buying guide will help you choose the perfect one for your winter adventures. So, let's get started and make ourselves cozy!
What to Consider When Buying a Heated Jacket
So, you're ready to take a look into the world of heated jackets, but what to consider when buying a heated jacket? Fear not, because we've got your back. When it comes to finding the ideal heated jacket, there are a few key factors you should keep in mind:
• First off, think about your intended use. Are you a snowboarding enthusiast seeking warmth on the slopes, or more of a casual walker battling icy winds? Different jackets cater to different needs, so identifying your primary purpose is crucial
• Now, let's talk about battery life. An ideal heated jacket is only as good as its battery, right? You wouldn't want your newfound warmth to fizzle out after just an hour. So, look for a jacket with a battery that aligns with your adventure duration. Do you need a jacket that can keep you warm for a full day of exploration, or are shorter bursts of heat more your style? Remember, not all heated jackets are created equal. Look for those with adjustable heating levels.
Tips for Choosing the Perfect Heated Jacket
Get ready to find the perfect heated jacket for you as here are some pro tips for choosing heated jacket that is practically tailor-made for you. First, pay close attention to the jacket's insulation. You want something that not only heats up but also retains that precious warmth. Insulation can make all the difference between a jacket that merely takes the edge off the cold and one that keeps you toasty like a marshmallow over a campfire.
There are different heat zones in a heated jacket, where the heating elements are placed. You can choose to warm up just your torso or have heated sleeves and pockets as well. It's up to you to decide. Before making a purchase, consider the right size and material for heated jacket. You don't want a jacket that's too tight and restricts your movement, nor one that's too loose and doesn't retain heat properly.
How to Find Your Perfect Heated Jacket
Let's get straight to the point: How to find the perfect heated jacket? Start by thinking about the best material for heated jackets. Although heated jackets are known for their insulating abilities, synthetic materials are also great for wet conditions. Consider the environment you will be in, whether it's a winter wonderland or a rainy adventure
Now, let's talk about durability. A heated jacket is an investment, and you want it to stand the test of time, right? Look for jackets with sturdy construction and reinforced stitching. After all, you'll be putting this jacket through its paces, and it should be up to the challenge.
Sizing Guide for Heated Jackets: Your Fit, Your Comfort
Nobody wants a jacket that fits like a straight jacket or one that flaps around in the wind. Check the sizing guide for heated jackets provided by the manufacturer, and consider how many layers you might wear underneath. Remember, a well-fitting jacket not only looks good but also traps heat effectively.
Top-Rated Heated Jackets for Ultimate Warmth and Comfort
AlpenheatNA brings you a selection of top-rated heated jackets that have earned their stripes in the area of warmth and cosiness. These jackets aren't just about keeping you warm; they're about providing a luxurious cocoon of comfort as you brave the elements.
So there you have it, fellow adventurers – your guide to choosing the perfect heated jacket to conquer the cold with style and flair. Whether you're starting on a snow-covered hike, hitting the slopes, or just running errands on a frosty day, a heated jacket can be your ultimate winter companion. Remember, it's not just about staying warm; it's about adapting the outdoors with open arms, regardless of the temperature. So gear up, stay cosy, and let your winter adventures begin!
Collection 2019
Sale 70% Off
Title for image